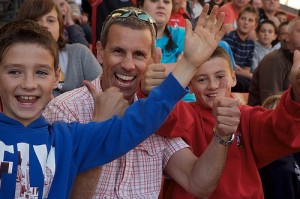 Would you like your clients to be raving fans?
The germ of this idea started a few weeks ago when I went to a focus group. A big financial services company wanted to roll out new tools for small businesses to help them manage their money.
Afterward, I thought, what do small business owners really want today? They want more business!
Help your clients, and yourself too
What if you were the company that helped them get it? What if your company brought those together — and offered a true relationship?
Use strategies that bring people back, and get them talking, so other businesses will want to join in.
I don't care about shopping points or coupons I must use in 30 days. I do care about a company that takes the time to listen, and develop a relationship.
Unless you're different and worth talking about nobody will be interested. You have to interact and show you actually care.
A little something extra
A free soup strategy, that brings a smile to your customers' faces.
Thank you notes or birthday cards.  A gift card for their favorite coffee shop.  Or, a framed photo of their favorite sports team's championship win.
Help them help each other.
Encourage one client to help another. Introduce the florist to the candy-maker. Or, host events for small businesses, bringing the florist, the candy-maker, and the jewelry designer into the same room.
Invite clients for breakfast, ask them for ideas, let them interact, and brainstorm. Watch how they use your tools. What's obvious to you (because you've lived with it for two years) may not be to people who haven't.
When you go to events, listen more. Be the person who brings people together (rather than the person with the big sales pitch).
What are you doing to bring your clients together?