I get asked a lot of questions like:
"Do you know a great graphic designer?"
"Where can I get a web site done?"
"How can I write better headlines?"
"How does my traffic compare to my competitors?"
"Do you know of a good screen capture tool?"
"Where can I find a creative brief template?"
"What's a good web host?"
"I want to start an email newsletter, who should I hire?
So, to answer all these questions, and get  you the information right away (day or night/24/7), here's a list of people and services I personally use and recommend.
Professional Business Marketing Recommendations
Graphic Design
BlueSky Design – Kathie Rokita is brilliant and easy to work with.  She's my preferred graphic designer.  I explain what the client needs and she gets it done fast as lightning.
Web site design
Confluent Forms – David Kutcher and his team create beautiful web sites in Blogger (!), WordPress or HTML.  They don't just stick with their favorite tool, they choose the one that best fits what your business needs. As a bonus, David is a Google Analytics wizard. Ask him for a free analytics review session.
Fat Eyes Web Development – Gina Fiedel will help transform your branding and corporate identity, logo design and websites.  Her firm can create WordPress sites (from scratch), HTML or use customized templates.
SEO and Lead Generation
A pretty website is nice, but a good looking website that helps you get found on Google and generate leads is even better. Randy Milanovic at Kayak Online Marketing can help you do that.
My One Call is a sales acceleration company. Mike Bayes will show you how to get more leads to your sales team, cut your sales cycle, and close a year's worth of deals in only nine months.
 event marketing
 If you want to make a splash at a real-life event (instead of on the web), contact
Lany Sullivan
.  She can handle the entire project: from finding a venue to contracts, promotion, and advertising materials. If you want an "experience' (getting a physical product into people's hands, or creating a buzz, she can do that too.
Web Hosting
Wiser Sites When another site of mine was viciously attacked, Wiser Sites stepped up and fixed it.  First they got rid of the malicious files, then they fought off email spammers hijacking my site to send thousands of unwanted emails.  The owner even called me late at night (in his time zone) to help me walk through a problem.
Free Marketing Tools and Resources
Creative Brief template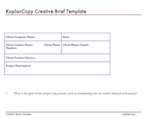 This one sheet of paper can make a big difference in how you deal with your clients (or creatives working on a project). Fill it out, share it, and pass it on to your friends. Your projects will run much more smoothly.
Get your free creative brief template here.
ideal client profile worksheet
Marketing to everyone is marketing to nobody, but how do you narrow your focus? You'll need to figure out who your ideal client is, where to find them, and how to reach them. Download your  free ideal client profile worksheet.
free or low cost online marketing tools
Finding photos for your blog posts or ebooks can be tricky.  You can't just take anything you find on Google.  Here's a list of places to find free photos it's OK to use.  And, here's a list of sources for free icons.
Put an end to boring lore ipsum, use these creative text fillers instead.
Find (or match) fonts and get icons for your website with these tools.
Online project management and marketing tools for better writing, project management, and brainstorming.
Landing Page Tips
Find out  how to write better landing pages, plus some common landing page mistakes, and how to avoid them.
Niche Marketing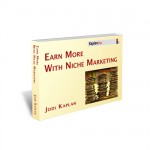 Marketing to everyone is a mistake. You'll have more success if you focus on a niche instead. Download my niche marketing ebook (it's free, no signup necessary)
Email Marketing best practices

Building your own email list (of people who want to hear from you) can be one of the most profitable marketing tools for your business. Get this free email marketing ebook to learn how.
Headline Writing help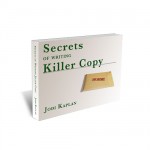 It's the most important part of your ad, your email, or your landing page, but how do you write a headline that really sells?  Here's a short (free) ebook with killer headline writing tips.