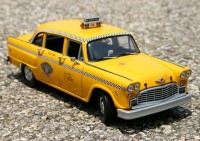 Once, Checker cabs were ordinary. You could see them on city streets every day. Now, taxi regulations require that cars be taken out of service after they reach a mileage limit. So there are only a few left. Seeing one is remarkable, worth talking about.
Be worth talking about
Being remarkable is one way to do that. Be worth talking about (like the Checker cab, or the fun car wash, or a no-kill public animal shelter). Talk to people (not at them). Yelling louder and louder won't attract clients. You will get them by listening, asking questions, and building trust. Bob told me about a car wash that lets you squirt water and soap on the car (like a giant fire hose). It's owned by Procter & Gamble, which is also a remarkable thing – that a big company could do something unusual.
Think different
As I was writing this post, an email popped up from a marketing forum. Someone wanted advice on how to promote her computer repair business. They're the only Apple service/sales store in the area, but they also want to promote PC repair and document management services. When they focus on Apple, nobody knows they fix PCs. If they concentrate on PC service, the reverse happens. Then, there's the document management software they sell.
Focus your message
Being the only Apple repair store in town makes them remarkable and worth talking about, "Hey, they're the Apple guys. Thank goodness! I can get my Mac fixed."
Doing too many other things makes their advertising messages confusing and changes their service from remarkable to ordinary.
You'll get more business (and more rapid fans) being a purple cow than a brown one.
How are you remarkable? What are you doing to stand out?
Image: wikimedia
Note: The sad thing is, I saw an actual Checker cab a few weeks ago, and took a photo with my dumb cell phone. Unfortunately, Verizon has put all sorts of barriers in place to make it hard to get the photo from phone to screen (the USB cables don't fit, for one thing). If you want to post an image you have to pay a fee to email it to yourself.