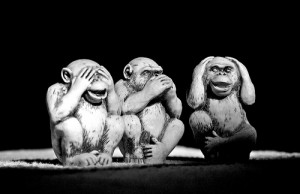 A recent survey conducted by Opinion Research Corp (Information Week, 4/15/09) found that 84% of Americans report that online feedback influences their buying decisions. However, only 28% of the survey respondents said they posted their own opinions.
This leads to two conclusions. First, a small minority of people may have an out-sized effect on ratings. And, secondly, if you're a business, it's important to monitor what people are saying about you and your products.
Five Ways to Listen Better
1) Develop big ears and start listening.
2) Set up Google Alerts to monitor mentions of your company.
3) Subscribe to blogs in your industry (use Google BlogSearch to find them). Read what the blogs say, and act on it. If the comments tell you something is wrong, fix it.
4) Monitor consumer sites such as Yelp!, The Consumerist, MeasuredUp , or sites in your industry that host reviews. Allow reviews on your own site too.
5) If you see someone with a problem, jump in and participate. Don't yell and get defensive, try to address and solve the problem. You may not be able to please everyone, but you will be able to demonstrate that you're truly concerned about your customers' satisfaction.