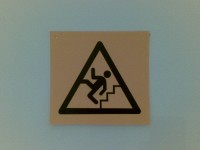 You carefully set up your online marketing campaign, selected "your people", offered solutions to their problems, designed eye-catching graphics, and sent it out into the world.
And it went splat.
What happened?
You missed an important step.
When you create an online campaign, there are three places you can send people.
Home pages
Your home page is the "front page" of your web site.  The door where most people enter your site.  Check your stats; it's probably got more visits than the other pages.  It's great as a general introduction to what you do and to invite people to explore your site further (here's mine).
It's not so good as a direct sales tool.
Product pages
Then there's a product page.  That's a page that's talking about a specific product or service you offer.  It can be a selling page, or informational (like this one on Amazon).  This is better as a sales tool, and but there's a better choice (especially for services).
Landing pages
Finally, there's a landing page.  The landing page is a special page (or sometimes a mini-site) set up to sell something, encourage sign ups (to a newsletter), or encourage visitors to download information.
Landing pages have fewer navigation buttons, so that visitors concentrate on what's in front of them (and don't wander off elsewhere on your site).  The goal is for visitors to arrive, read what you have to say, and take action right there.
There's a fierce debate on the web about long vs. short copy, but landing pages tend to be long in order to answer questions and explain everything about the product (since you can't do that in person).
When you run a campaign, send people to a landing page.  Tell them what they need to know to buy your product.  Don't distract them.  Get more sales!
Image:  jyri