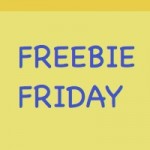 Freebie Friday is a new once-a-month post on the last Friday of each month. It will feature small business resources, email statistics and marketing reports, marketing white papers, and maybe a book or two.
Here are this month's links:
Business news and company information
CEO Express This helpful site has links to world and business news, financial market information, online search resources, reference materials, phone and zip code directories.
Hoovers Search thousands of companies by name or stock ticker. Get information on stock prices, SEC filings, and financials. Subscribers gain access to smaller and mid-sized company information.
Advice for small businesses and start ups
CCH Business Toolkit A comprehensive guide that will take you through every step of planning, starting,and running your new business. "Ask Alice!" columns offer advice on managing your accounting, insurance, marketing, taxes, and other critical business functions.
Small Business Administration Information on government regulations, financing options, loan requirements, and business plans.
Magazines for entrepreneurs
Inc. Resources, useful articles, and advice for small business owners.
BtoB Focuses on all aspects of business-to-buisiness marketing (both on- and off-line). They also offer e-newsletters and host events devoted to topics such as blogs, internet marketing,and integrating multi-channel marketing efforts.
Planning and starting your business
Service Corps of Retired Executives Free and confidential help from retired executives. Search by city, industry, or area of expertise. Plus, the web site has lots of "how to" articles and business templates.
Office Depot Business forms . Free, downloadable forms for organizing your business, operating agreements, employee management, and tax forms.
Legal Information
Basic legal forms and information (does not substitute for a lawyer, but will give you a basic outline).
Findlaw Business Contracts, Profit and Loss Statements, How to Read a Balance Sheet, Mergers and Finance
Photo: thetruthabout