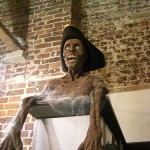 Friday the 13th is traditionally a good time to watch scary movies, but that doesn't mean the fright should extend to your business.
If your phone systems are complicated, it's hard to reach the right department, and hold times are really long, you may be scaring your customers away.
Multichannel Merchant reports (Feb. 10, 2009) that a recent survey of e-tailers found that service levels have slipped considerably in the past year. The report found that the number of e-tailers offering 24/7 service access has dropped to 27% (from 39% the year before), and the shipping times had increased to nearly 5 days.
However, the biggest problem was customer service rep knowledge. There's more outsourcing (to save money), training levels have dropped, and the reps don't know as much about the products as they should. Customers are frustrated, because they can't find what they want, get product questions answered correctly, or solve problems.
The article quotes E-tailing Group President Lauren Freedman saying, "'There's not enough emphasis on building a customer service culture anymore." What happens is that "bad" culture leads to poor email service, a poor call center, and finally, …"you open up live chat and you're bad at that too!"
There were some bright spots though. The service winners included Brookstone, Lands' End, Brooks Brothers, and Bluefly.
Meanwhile, I had an excellent "customer service" experience when I called the city of New York City information line the other day. Instead of trying to figure out which of the gazillion possible city offices to call when you have a problem, you just dial 311.
Here's what happened. I was looking out the window and saw lots of water pouring out of my neighbor's town house, into the yard. Something was clearly broken, but I had no idea what or who to call about it (neighbors weren't home). So, I called 311.
After one or two push button choices, I got a real person. I explained the problem and she transferred me to the Department of Environmental Protection. I repeated it, and after speaking with a supervisor, the rep decided the problem required the fire department. She connected me, and gave ID info to the operator. I explained the situation, and the 911 operator notified the fire department.
The whole thing took maybe 5-10 minutes. A fireman was at my door (to look down at the problem) about 3 minutes later.
They turned off the water (it was deep enough to slosh around in) and the immediate problem was solved (though I understand the owners found a big mess when they came home).
If a big bureaucracy can do it… you can too!