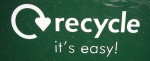 With all the cost-cutting and recession fears around, many companies (large and small) are worried about spending more money on marketing. This is actually the time when you should spend (or else you may end up out of business).
However, solutions to your budget worries may already be on your computer and in your files.
Take what you already have and recycle, reformat, or re-use it. It's a good way to spread the word, save money, and save time (rather than starting from scratch).
Doing a free webinar? Record it and put it on your Web site. Or, include the link in your newsletter.
Share links to relevant articles or guest blog posts you've written.
Send (or post) links to interviews you've done.
Create podcasts from your speeches.
Turn a series of blog posts into free mini e-books
Even if you don't have anything to recycle, there are lots things you can do for free. Check out these free online marketing tools and this list of ten free ways to market your business.
Freebie Friday is tomorrow.
Image: Chris Satchwell