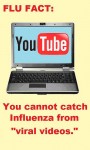 Viral campaigns can be a great way to get more attention, press coverage, and gigs. But how do you create one?
Marketing Sherpa (August 12, 2009) just shared the tactics used by past viral marketing honorees at its B2B Marketing Summit.
Why go viral?
The payoff is that you can start small and power up to 3,000,000 views on YouTube, network press coverage, industry coverage, blog coverage, and speaking gigs.
You don't have to break your budget to do this, and of course, if you're already in the video production business, you can do it yourself.
How to go viral
*create something that's humorous, encourages involvement, and is worth spreading
* encourage viewers to add their own photos and comments
* include a "treasure hunt" or contest that requires visitors to search for something (and spend more time on your site while they do it)
* start with a small seed of existing clients and contacts
* add YouTube postings, and links on Facebook, MySpace, and LinkedIn
* send press releases to trade publications
My personal favorite on Marketing Sherpa's list is VeriSign's campaign featuring the fictitious Liberty Fillmore (Cart Whisperer), who shows us that abandoned shopping carts can be saved.
http://www.nomoreabandonedcarts.com/
This campaign works because it's funny, asks viewers to share their own photos of abandoned carts, and includes a contest to find the wandering shopping cart on the site (it moves around every day). It has over 3.3 million views so far.
See more past winners and details of their winning campaigns (open access only until August 19).
Got your own campaign that's gone big?
Want to be honored for it? Nominate yourself here (deadline is August 21).