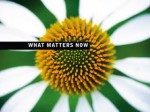 A few months ago, Seth Godin got 70 big thinkers together to share their thoughts, secrets, and ideas about what's important. They include Seth himself, Dan Pink, David Meerman Scott, and Gary Vaynerchuk.
It's called What Matters Now and it's full of ideas that will inspire you, change the way you look at the world, and get you going for the new year.
Get your free what-matters-now-ebook.
Or, if you'd prefer a real, hold-in-your-hands, curl up on the couch, printed book version, you can buy it here. All proceeds go to Room to Read.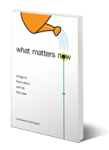 Read it and send it to your friends. Share how it inspired you in the comments.