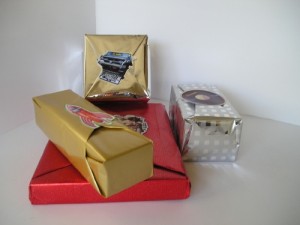 A somewhat mysterious large brown envelope arrived in my mailbox a few weeks ago. I wasn't expecting anything, so I pulled it out from the pile and opened it first.
Why? Because it was "lumpy mail". What's lumpy mail? It's something in a package (rather than a flat envelope). Seth Godin famously packaged his book Purple Cow in a purple milk carton. Catholic charities sent my mom a crucifix (good idea, very poor list selection).
In this case, the package was from Bill Roozie. Bill runs a design firm in Texas. I'd helped him out with some marketing advice on the Amex Open Forum, and he sent me a thumb drive as a thank you.
Sending something that stands out from the rest of the bills, the catalogs, and the brochures, increases the chances it will get opened. If you want to connect with your customers or your prospects, send them a thumb drive shaped like a camera (if you're in the video business) or a purple milk carton. A plain brown wrapper doesn't only protect privacy, it also makes the package more interesting and mysterious. It's clearly not a bill, and could be a present (everyone likes presents).
Don't you want to know what's inside these boxes?
Oh, and speaking of presents, Happy Birthday Seth!