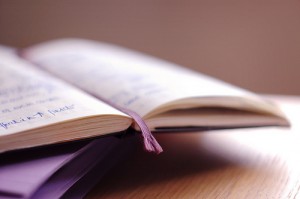 Chris Brogan recently pointed out a marketing tool that will make your customers smile. He bought a book and inside was a card thanking him for his purchase, telling him what other kinds of books the publisher produced, and inviting him to get updates on future titles as they are published.
As Chris pointed out, it's a thank you, gives helpful information about the publisher, and includes a call to action.
Since it's in your new book, you're likely to look at it and read it. Asking for his email address might have seemed intrusive (a way to send more marketing material). However, a card (or better yet, a bookmark) is an extra gift. People delete unwanted emails without thinking twice. Paper seems more important and personal, and people tend to save it. You can only see email, but you can see, touch, and sometimes (if it's fresh from the printer) smell paper and ink.
Old cataloger's trick: make your catalog slightly smaller than your competitors'. People tend to keep them, and stack them. Guess which goes on top?