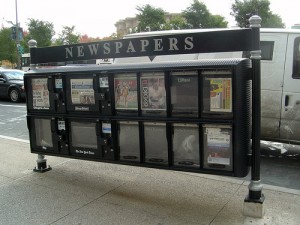 What's the easiest way to get more email newsletter subscribers? The answer may not be what you expect.  In fact, it's dead simple, but it's something people often forget to do.
The answer is just to ask them.  Once you do that, there are a few more steps you should take to improve the rate of sign-ups and get more  conversions.
Keep it simple
The more complicated the signup form is, the less likely people are to complete it. Limit the questions and form fill-in fields to the information you absolutely must have. If you're going to send emails, you'll need name, email address, and possibly industry or title (to qualify people).
Why is this important?  Here's a real-life example of what happens when you make it hard to sign up, fill out a form, or even comment on your blog.
I just went to leave a comment on a marketing blog. They wanted my name (OK), email address, (still OK), URL (also good), and then… my occupation, my title, my state, my country, and a captcha. Needless to say, I didn't leave the comment.
I guess they don't really want my input if they're going to make it that difficult for me to give it.
Make it easy to find
If you want people to sign up for your newsletter, or your offer, put the sign-up box at the top of the page (right under the header).  Heat-mapping studies show that viewers' attention is concentrated mostly above the fold, and then in roughly an "F"-shaped pattern on your page: First, along the top, then down on the left, and into the center.
Put your sign up boxes and offers in the three places people look the most: under the header, then after the post (but before the comments section), and along the left side of your website or blog post.
Demonstrate value and use benefits
Tell people why they should sign up for your newsletter.  There's a lot of spam out there, and people are increasingly wary of what (and who) they admit to their inboxes.  Spell out the topics you cover, the frequency of your emails, and what people will gain by signing up.
Frame your copy in terms of what your reader will get by signing up. Stress why you're different (and how that helps your customers). Describe the headaches they have, and how you cure their pain.
Don't forget to ask for action. Stay away from words like "subscribe" (it sounds like you want money. Use words like 'claim' or 'get started' instead. Clearly state that you respect your customers' privacy and won't sell, rent, or exchange their personal data.
Offer a special incentive
Give potential subscribers an extra reason to sign up.   Offer a special download or report that only subscribers have access to.  Or give them an exclusive discount offer or inside deal that is only available to subscribers.
Add an extra bonus on your thank you confirmation page. Give them a checklist or access to a short video with useful tips.
Use a landing page
Some people will be happy to sign up right away. Others may require more persuading. Add a dedicated landing page with more information about what your readers receive.  You can also use that page for your promotional efforts on social media or in advertising.
Make sharing easy
Add signup and forwarding buttons to your newsletter.  Encourage people on social networks to sign up and send your message to their colleagues and friends. Post links on your Facebook page and add signup calls to your tweets (just don't overdo it!).
Don't abuse the relationship
If you already have subscribers, it's very tempting to sign them up for a new product or service. It's soo easy to do.  But it's not a good idea.
A few days ago, I got an unwanted email from a new marketing magazine. I was pretty annoyed. I hadn't subscribed to a new magazine, and had no idea why I was getting the e-mail.
This was, after all, a marketing magazine. Haven't they heard of permission marketing?
I emailed the publisher, and she told me that I had gotten the issue because I subscribed to something else they publish. They took my permission to send X as permission to send an introductory copy of Y.
Nope.
A better way to grow your subscribers
It's perfectly OK to offer readers of one publication the opportunity to subscribe to something else. But, tell them what you're doing. Ask specifically for the opt-in, or at least make it very clear why you're sending the email. "For readers of X, here's a new magazine called Y. This is a single introductory issue. If you enjoy this, please click here to subscribe."
An email like that would have gotten my attention, reduced my irritation, and might have induced me to sign up for the magazine.
Better yet, call it a "sneak preview". Tell your readers they're getting an exclusive, early look at the magazine, before it's released to the general public. Focus on limited (for a time) access and exclusivity. The offer of the magazine will seem more appealing, and you'll get more sign-ups.
Give them control
Allow subscribers to choose preferences. Sometimes people unsubscribe not because they don't want your content, but because they only want some of it (the X newsletter, but not the Y), or they would prefer to receive it less often.
Let them choose how often they want to hear from you and which publications they want to get. If appropriate, ask if they want reminders (about holidays or birthdays or other special occasions). By doing so, you're getting permission to send additional, personal, relevant messages at exactly the time your customer wants to buy something!