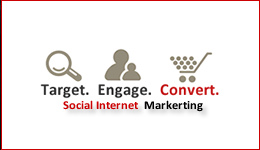 Someone on LinkedIn said that Internet Marketing is "new", "there's never been anything like it."  It's true that there are lots of new tools, such as SEO, pay per click, social networking, e-mail, or even e-bay that weren't available 20 years ago.
However, the basic principles of marketing haven't changed, only the means and the speed.  Regardless of whether you're using print or pixels, you still need to reach the right people.  If you sell custom car parts for racing enthusiasts, you have to reach out to people in that particular tribe.
You must then establish a conversation with them.  Talk  to them about their interests, their problems, and their enthusiasm for racing.  Show that you share that enthusiasm.  Gain their trust.
Then offer them something of interest (free newsletter with sources for custom paint jobs, new parts or tools on the market), a discount coupon, etc.
Finally, ask for action (join here, call this number).
Photo: web success diva