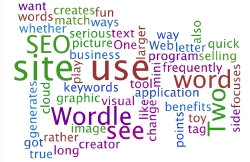 The creator of Wordle says it's a toy. It's true that is fun to play with, but it's also got a serious side. It's a mini application that creates a graphic image of the word on your Web site or other text. The more frequently you use a word, the larger it will be in the picture that Wordle generates (like a tag cloud).
Two ways to use this:
One: As a SEO tool. It's a quick, visual way to see whether the words on your site match the keywords you want to use for your SEO program. If not, change them!
Two: See if your site (or letter) focuses on on selling points and benefits, rather than how long you've been in business.
Try it at http://www.wordle.net/create