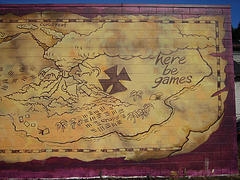 Getting referrals can be like finding buried treasure. They're a low cost way to get more business, and come with a built-in testimonial from someone who already knows you. But how do you get more of them? And, do you know what triggers someone to refer you?
If not, you'll need to create a "Referral Trigger Map". Here's how to do it.
Set up a document (or a spreadsheet) with a table. Create two columns, one labeled "Prospects" and the other Labeled "Referral Sources". Under Prospects, type "clients, friends, associates who talk about"…. Under Referral Sources, type "I can help these businesses and their clients…"
Under the Prospects column, list situations and discussions that would lead a friend, current client, or associate to refer you.
Then match up the situations with businesses and people you frequently come in contact with. Do they have a problem you can solve? Or, do they know other companies that do? Add those to the Sources column.
For example, if you're a Web designer, a trigger point might be a small business owner frustrated with a designer whose business to business Web designs turned out to be pre-fabricated templates with daisies and teddy bears (you may laugh, but this has happened).
Then, make a second table with the headings: "Conversation Starters" and "Referral Triggers to Listen For".
For the Web designer, it might be expressing sympathy with the business owner, and offering her the opportunity to discuss a more professional solution.
If you build super-light exhibits for trade shows; a trigger point might be hearing someone complain about the $1,000 they just spent to have their exhibit shipped.
It should look like this: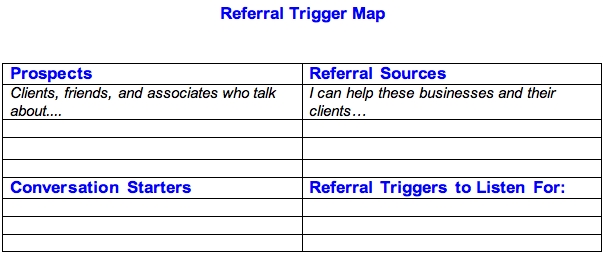 Download the map and take a few minutes to fill it in. See what treasure you can find!