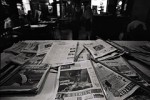 First of all, thank you for visiting! I appreciate your support and trust.
If you're not receiving a free subscription to this blog, here's how to get one.
Just type your email address in the form below and get the blog delivered directly to your inbox.
If you'd like to tell people about your blog, just add the link and a short description in the comments section.
Photo: