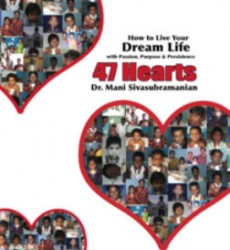 Today is Valentine's Day (you probably knew that).
What you may not know is that it's also Congenital Heart Disease Awareness Day.  According to my friend, Dr. Mani (who is a heart surgeon), it's the single largest childhood birth defect – affecting 7 out of every 1,000 children born worldwide.
He wants to do something about it.  So, on this Valentine's Day, he's decided to celebrate by offering his ebook, "47 Hearts: How to Live Your Dream Life" for only $2.99.
What's Inside
Learn how to:
tap into your hidden assets and talents
turn dull routines into purposeful passion
reach your goals, no matter how big
leverage your passion to create a mission
build a strong, sustainable path to success
Plus, there's over $150 worth of special bonuses.
The offer is good for today only!  ALL profits go to sponsor a child's heart surgery.
Much better than flowers.  And it will change a child's life forever.
Here's the link to order:
P.S. He asked me to help, and I'm happy to do so. I get no compensation of any kind.