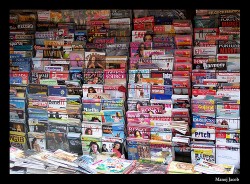 Writing headlines is hard.  You know (cause I've gone on and on about it) that the headline is what gets attention.  Write a bad headline, nobody reads your article.
Give everything away in the headline and there's no need to read further.
But a good headline, well that can make a big difference.  Your readers become charged up, excited, curious, and suddenly alert.
They're interested and they want to read more!
But sometimes  your brain is just stuck on neutral.  Nothing.  Nada.  Zip.
Luckily, there are some tips you can use to write a great headline with very little work.
Have Google do it
Search for your topic and check out the sponsored links and ads.   This tells you if there are a lot of other pages and posts on the topic and if it's worth pursuing further.
Then, use Google's keyword tool to see how many searches are made with those words.
Use a headline tool
Try the linkbait generator.  Type in a topic and get a catchy headline.
Fill in the blanks
(OK, this requires some writing, but very little)
Who Else Wants to _______?
Little Known Ways to ________
Get Rid of [Problem] Once and For All
The Lazy [Bloggers/Writer's/Designer's] Way to [Better Posts/Write Faster/Get More Clients]
_____ That Wow
There! You've just written a week's worth of headlines without writing very much.
On Monday, why these headlines work.