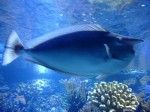 Fisherman know that if they want to catch any fish, they need to go to the right spot.
Marketers need to do that too. You figure out what kinds of fish (clients) you want to attract and go where they are. Right? But wait, you're going to need one more thing.
Catch Clients With Bait
Worms, squid, and flies work for fish. Not so much for people. You'll need the kind of bait that attracts people; specifically your preferred kind of people. Choosing the right bait can make a big difference in whether you catch a lot of fish (clients) or no fish at all.
How to Bait Your Audience
Free e-books
Put together a series of blog posts, articles, or write something completely new. Pick a topic that vexes your audience and help them through it ("How to Hire a Copywriter", "10 Questions You Should Ask Before You Hire a Web Designer – and the Answers To Each One").
You can either use ebooks as bait for a signup to your newsletter. Or, you can spread them virally, with no sign-up required. The first way grows your list of qualified prospects for your services or information products; the second gets more downloads and spreads faster.
Viral and How-to Videos
These can be viral videos – something that's funny, interactive, and spreads the word about your company. Or, they can be how-to videos, showing how to create a "buy now' button or a favicon.
Another idea would be a demonstration of your skills; reviewing someone's Web site design and pointing out improvements that will boost conversions.
Build a community
A membership site or a community of some kind lets your clients and potential clients interact with each other. You can step in and tell them about projects you're working on (guidance on how-to), encourage them to help each other, encourage them to connect with each other, and offer inside tips that the rest of the world doesn't get (if the forum requires membership).
This strengthens ties to you, increases your authority and builds trust.
Teleseminars/Webinars/Podcasts
You can interview an expert, or give a series of talks. Make sure it's informational, not a big sales pitch.
Like the ebooks, and the videos, you can use them to build your list (make sure you get permission for any further follow-ups), spread the word about your services, and establish yourself as an expert.
What other ideas can you think of? What experiences have you had with "bait"? What did you do and what results did you get?