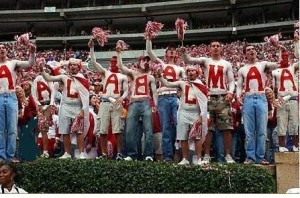 Every year during football season, fans show up with their bare chests painted in the team colors. It may be cold, but they don't care; they're part of a tribe of fans and they want to share/show it.
Your company may not have a big stadium, or team colors, but that doesn't mean you can't develop your own fans.
1. Make connections, not commands. Help when your customers have a problem. If someone wants to be removed from your list remove them immediately (it's also the law). Don't tell them how to fill out the customer survey by pre-filling it with "highly satisfied" check marks. Ask for their opinions, and listen to the answers.
2. Act on the answers you get. Bodo's survey (in yesterday's post) worked because people love to share their opinions (that's why customer reviews on Web sites are so powerful). It will also help you tailor your promotions, and your products to what your customers want. No sense increasing your production of lawn mowers if most of your customers are renters, not homeowners.
3. Invite participation. Hold contests for best slogan. Ask people to invent a new flavor (winner gets a case of it). Take pictures of customers using your product and post them on your site. Or, better yet, ask them to send their own photos.
4. Understand your customers' needs (and show it). Solicit feedback and offer incentives that matter. Don't reward your customers with 4 $30 gift cards that expire in 10 days. Instead, send a check, credit their accounts, or offer points towards buying something they do want.
5. If you're entering a new market, research the local environment. Most people in the US have cars, but not in New York City, where only 25% of the population owns a car. So, companies doing business here need to adapt. Trader Joe's grocery store offers delivery. So does Home Depot.
6. Show your personality/tell a story. Be the quirky grocery store with products that are expensive or hard-to-find elsewhere. Show your two bearded founders in your ads. Tell the story of how they got together and made ice cream history.
How are you building your own fan club? Share your stories in the comments.