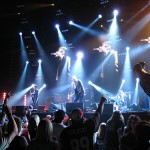 Rock star fans will travel miles to see their favorite band. They'll wait in line for hours, in the cold, the rain, and snow, hoping for tickets. They'll collect posters, share favorite songs (sing the lyrics), and memorize every word of the lyrics. Before the Web, there were liner notes. Now, there's official web sites, twitter streams, and fan pages.
You may not be a rock star, but you can still have enthusiastic followers. Here's how:
Offer additional formats for a small additional charge.
Collect information about what your customers want/need and develop new products/services based on their answers. You can do this for free with surveymonkey.
At a trade show, ask prospects to fill out a questionnaire (in order to gain permission to talk to them). Offer a prize as a reward. You'll get better leads, plus information you can use to target your promotions.
Email customers when a new product or service arrives that's relevant to their problem or interests. What if your favorite bookstore emailed (or tweeted) when the latest mystery by your favorite author arrived?
Use your newsletter to conduct polls, give tips on how to use your product, and direct customers to complementary products.