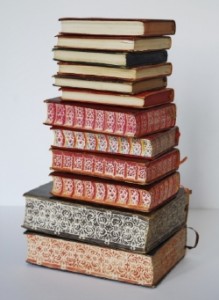 A few days ago, I responded to a book blog post and said that "consumers don't care which publisher produces the books they buy." I may have to eat my words.
Yesterday's special issue of Shelf Awareness (a book industry newsletter) spotlighted HarperStuio (a new division of HarperCollins). Faced with a whole brave new world of reading options, declining book sales, and the Internet, HarperStudio decided to do something different.
Instead of paying big advances, they're offering to share more of the profits with their authors. And, they want to offer book buyers the opportunity to also purchase audio and e-book versions of the same title for only a few dollars more. Instead of seeing ebooks as a threat, they're offering them as a complement to traditional reading, seeing a consumer reading a printed book at home, the e-book while traveling or commuting, and listening to the audio version while driving. So, if the original book was $29.95, the audio and e-books might be an additional $2.
This would certainly make me want to be part of the HarperStudio tribe – and look specifically for that company's books.
They're coming up with creative ways to build a following. They're encouraging authors to start blogging after the book is acquired, showing them how to Twitter, and getting them to use social networking tools such as myspace, facebook, and stumbleupon. Authors are given flip cameras to create video stories about their books. Fans can watch the videos, send them to friends, and "stumble" the links.
How can you build your tribe?